James Wild MP Visits KES for First Time as a Governor and Talks Careers in Government & Politics to Students at King Edward VII Academy
Back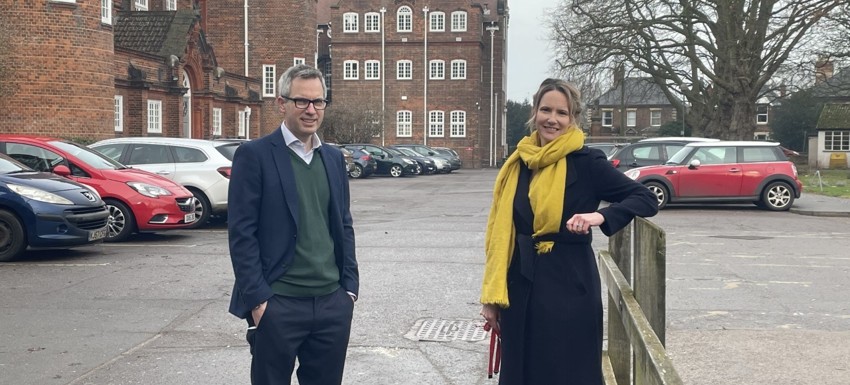 January 28th 2022
North West Norfolk MP James Wild has enjoyed his first official visit to King Edward VII Academy since being appointed as a governor on the school's Academic Council last year.
James was impressed by the efforts of the leadership team to improve results and by the work of Inspiration Trust which took over the running of the academy in September. The school prides itself on ensuring high ambitions and expectations of all of the students as well as exposing them to a challenging curriculum and encouraging them to work hard, be committed, and conduct themselves well.
James was given a tour of the school by Principal Sarah Hartshorn and took part in a Q&A session with form leaders before meeting sixth-form students who are interested in a career either in civil service, politics, or law.
Commenting after the visit James said: "Increasing opportunities for young people to realise their potential is one of my priorities and a good education is vital for achieving that. That's why I was delighted to join KES' Academy Council to support the school leadership to continue to make improvements to give the pupils the best possible start in life. With so many options for people when they leave sixth form I enjoyed talking to sixth formers about some of the roles in the civil service as well as law that they could pursue."
Last November James was appointed as an Academy Committee Member for KES and the committee works in close partnership with the Principal and staff, parents, and pupils to provide support, challenge, and scrutiny to help improve performance. The Inspiration Trust is continuing to make changes to improve the education on offer which was reflected in the recent Ofsted short inspection.
Commenting after the visit Principal, Sarah Hartshorn said:" I was delighted to welcome James to be part of our Academy Council and glad to be able to provide him with the opportunity to see the school in action, and witness first-hand the improvements we have already made.

Our students very much enjoyed meeting with him and raised some very pertinent points in their question-and-answer sessions; I know James is already planning on taking these forwards. His visit has already inspired one of our sixth formers to pursue a career in politics. We look forward to welcoming him back in his capacity as a governor to help support the schools upward trajectory and aim of becoming outstanding."