Our House System
The development of a strong culture is a vital part of our schools. We believe that pupils need to be provided with opportunities to develop as young people, to gain a sense of community, and to experience and share success with others. One way in which we provide such opportunities is through our House System.
Here at King Edward VII Academy, we are extremely proud of the House System we have created and the values that are attached. It embodies all that we stand for and is the vehicle in which our culture is lived through each day. It encourages pupil development through access to a wide range of experiences and motivates students to work together to share ideas, allowing them to learn from each other.
Students are placed into one of our four Houses upon arrival to King Edward VII Academy;
Lancaster School
Edinburgh York
Keene Thoresby
Gloucester Windsor.

Our History
Our House System is engrained in our history, and is a major part of our school ethos, linking closely to all aspects of life as a student at King Edward VII Academy.
Dating back to as early as 1909, our House System has gone through many transitions since then. In 1923, a restructure of the House System honoured notable figures of the school's origin including Thoresby, named after the school's first benefactor; Lancaster, after the school's second benefactor; and Keene, a distinguished boy of the school, Sir Benjamin Keene, who had been British Ambassador to the Court of Spain in the eighteenth century. Today, our Houses continue to pay tribute to these figures, as well as reference the school's royal links.
We are incredibly proud of our House System, which has previously received local and national recognition for its impact and development over the years and we are determined to keep making it a large part of KES Academy both in school and after school.
Find out more about the history of our school here
Our Values
Alongside our House System, we have 8 House values;
Teamwork

Creativity

Respect

Determination

Passion

Honesty

Self-belief

Empathy.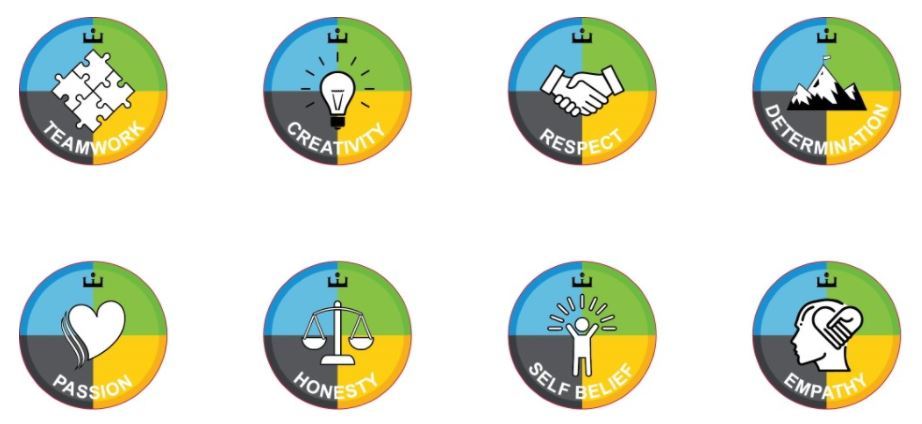 These values are a large part of life at KES Academy. We believe that displaying these values are vital for success, not just in school, but in all aspects of life. Our values are strengthened by the wide range of leadership opportunities we provide from Form Leaders to Prefects to Sports Captains, and many more.
Rewards
By showing our values consistently, students are nominated for a House Values Badge by form tutors, teachers, the Principal or a fellow pupil. Each half term, students and staff are awarded with their House Values Badges. You will notice these badges on the blazers of our students and staff, who all wear them with pride. These are a representation of what our amazing House System is all about. We have a fortnightly House value focus and students within each Year group that have accumulated the most are rewarded and celebrated with House Leaders and Senior Leaders.
Our Competitions
At KES Academy, we offer a diverse and broad range of events in combination with the traditional sporting and competitive fields. For example, the House Art & Design challenges and House Maths Challenges have proved very popular, as well as dodgeball, handball, gaming, designing, raising money for a charity event and taking part in live science experiments. All students participate in multiple House events every academic year.
Form groups are all part of the same House and part of a bigger team, with each student being given a broad variety of different opportunities to represent and make a positive contribution to. We give each and every student at KES Academy the opportunity to achieve and feel special in conjunction with making a positive contribution to their House, with over 86 events each year.
Each school within the Inspiration Trust has a House system and as part of the wider trust, we are delighted to be able to offer our students the opportunity to participate in numerous exciting inter-trust events and competitions, all of which promote and inspire teamwork, while creating a unique sense of belonging to something bigger than one's self.
Attendance
Attendance is a crucial piece of our school puzzle. We aim to support students attending school by creating a positive environment that rewards students who attend school regularly or overcome barriers and challenges to come into school. Our rewards are built into our House system and include a variety of celebrations across the school year.
Assemblies and Team Meetings
Every assembly at King Edward VII Academy is underpinned by our House values. Each year we have different assemblies focusing on current affairs which are supported by our House System. In these assemblies' House value badges are presented. House assemblies occur once per half term, which are led by Heads of Year and Heads of Enrichment.
Assemblies focus on the role the academy has within our community and how all our House values can introduce pathways for student success. Weekly tutor meetings discuss the fortnightly House focus and celebrate the success of each form's students. Upcoming events and results are discussed, and TV screens updated.
All members of staff have a House colour on their lanyard and wear House value badges received from nominations. The aim is to promote a whole academy culture.
You can view the House points achieved so far this academic year below: